Back to news list
October 19, 2021
DGC participates in Future Food 2021
After a two year wait, the Future Foods Business Forum 2021 was back on the U.A.E. scene with Dubai Global Connect as one of its sponsors.
Future Foods is one of the region's best-in-class annual gatherings for thought leaders to share best practice, review forecasts and address opportunities in the UAE's food and beverage sector.
This year's theme was focused on how we can transform the future of food & beverage manufacturing through incorporating sustainable practices and solutions into our overall practices.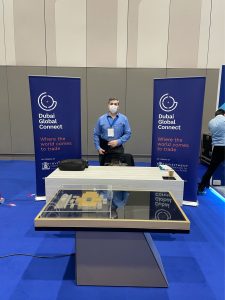 Dubai Global Connect is a key advocate of promoting sustainability across all its industries and believes that through providing suppliers and buyers with the opportunity to meet halfway, showcase, & transact all in one central location, we actively move towards eliminating wastage and maximising trade efficiency.